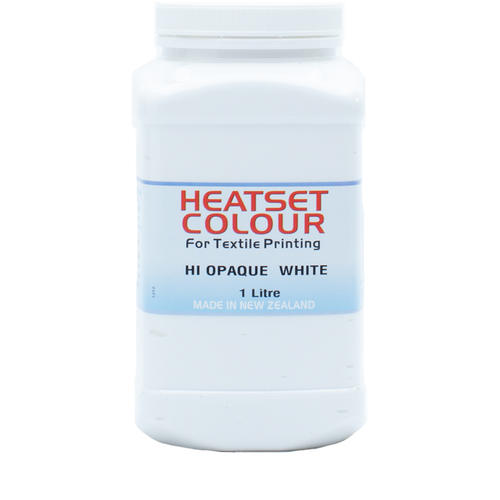 Heatset Pacific White is a lower strength white with slightly less opacity but is easier to hand print with than Hi Opaque White. It is called Pacific White as it is used mainly in the Pacific Islands as Heatset White is too strong and too thick for roller and brush application.
Heatset Pacific White is a water-based fabric colour most suited for the permanent decoration of cotton based and polycotton mixes fabrics.
Standard colours are transparent and will show best on white or light fabrics. If application is to be on coloured fabric, the end result will be a blend of the fabric colour and the colour applied.
Colours are intermixable and clean with water.
Heatset Pacific White is best applied by screenprinting or hand painting. Use "straight from the pot" for screenprinting. If reduced viscosity is required for hand painting, add Heatset Hand Paint Medium to reach desired consistency.
For pastel shades, mix colour with Heatset Print Paste.
FIXING
Unless otherwise stated, prints require a definite time/temperature heat cycle to obtain maximum wash fastness. Heat fixing can only take place when all moisture and solvents have dried out of the print.
RECOMMENDED HEAT FIXING TIMES:
3 minutes at 180oC - for hand iron use cotton setting.
5 minutes at 140oC - for hand iron use wool setting
10 minutes at 120oC
Any form of dry heat will fix Heatset. Wash test to determine best time/heat cycle.
IMPORTANT: Before batch printing, test the correct fixing procedure by washing and rubbing the test print. Do not print onto "dressed" fabrics without first removing all the dressing.