Cowley Double Drive ½HP Wheel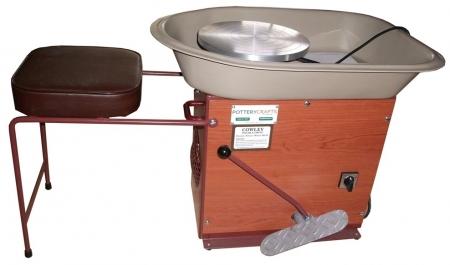 The P6340 Cowley Double Drive consists of a spherical cone driving a synthetic drive ring, coupled with further reduction in gearing. This enables double drive wheels to deliver the torque required for those extra-large pots. The compact size, weight and easily removable seats enables the wheel to be readily moved for demonstrations and classes.
It has the added advantage of storage in a small space when not in use, leaving plenty of space in the workshop.
* Low Maintenance wheel.
* Extremely reliable mechanism.
* Aluminium Wheelhead 280mm diameter
* Can be fitted with Easilift Wheelhead see: P6371/B for details and cost.
* Powerful enough for extra large pots
* Controllable speed from 0 to 240 rpm
* Reverse switch.
* Motor:0.5 Hp (0.37kw)
* RPM: 0-240
* Elect Supply: 220/240 volts AC 13amp.
* Centering: 20kg of Clay
* Width 510mm
* Height 580mm
* Length 700mm (1050mm with seat attached)
* Weight: 45 Kg approx